Season 2015
Buy online before you arrive!
Not only will you save money if you buy online in advance, you will be able to skip the ticket office queues and head straight out onto the slopes. Hotham"s ticketing centre will post your pass out to you if you purchase at least 7 business days prior to the commencement of your pass. By purchasing your lift passes in advance you will save:
Buy 7 Days in Advance: 10%
Buy 14 Days in Advance: 15%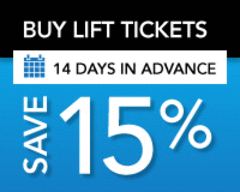 When you buy your lift passes online, you can bundle your lesson and/or equipment hire in the same transaction and save even more! Save 10% on your Lift Pass when you add lessons OR equipment hire Save 15% on your lift pass when you add lessons AND equipment hire Lessons/Equipment hire must be the same duration as the lift pass Available online only. Available on Adult, Child and Youth Lift only Lessons/equipment hire must be purchased in the same transaction as the lift pass and be associated with the same guest Valid on 2 or more days Purchase your lift passes 7 - 14 days in advance, bundle lessons and equipment hire and save even more off your Lift Only Pass! Visit: http://www.mthotham.com.au/lift-passes/# Email: tickets@hotham.com.au Phone: 03 5759 4436. If you would like to know more download the official Hotham and Falls first timers guide below.
Village Transport
A Free Shuttle Bus Service operates throughout the season with a number of bus stops connecting the Village and car parking areas. This service runs daily from 6:45am until late enabling guests to travel easily about the resort, from car parks to restaurants to Accommodation. Running like a city bus system, buses will stop at all village stops approximately every 15 minutes between Car Park 12 (Whiskey Flat) and Cark Park 2 (Corral Car Park) opposite Hotham Central. Just wait at any bus stop and enjoy the ride. Your valid Resort Entry Permit fees include Village Shuttle Bus transportation so no tickets are required, and bus stops are clearly marked throughout the Resort by signage. Transport users are reminded that the village shuttle will only stop at designated bus stops. Village Shuttle Buses offer hassle free transportation and are equipped with exterior ski racks and can carry passengers with skis or snowboards making it easier to get to and from the ski slopes.